Note: This was originally posted on Clara Gillow Clark's blog Writing From the Inside Out.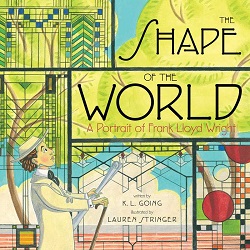 "Talent is good, practice is better, passion is best." Frank Lloyd Wright
I never paid much attention to architecture growing up. Buildings – even the most beautiful ones – were something I took for granted. It wasn't until later in life that I started to think about architecture as something to be admired and appreciated, and that appreciation began with my father.
The Shape of the World is dedicated to my dad because it was his love of Frank Lloyd Wright's work that made me take a second look at the world around me. At first, I looked at Wright's buildings and appreciated the way they mimicked the natural world. This led me to thinking about how buildings can be works of art within our daily existence or mundane functional objects that add little to our lives. What do our buildings say about us? When the minutia of society has crumbled away, what will future archeologists find revealed in our architecture?

Winston Churchill once said, "We shape our buildings; thereafter they shape us." Just like books, architecture is a gift we give to our children.
"Every great architect is – necessarily – a great poet. He must be a great original interpreter of his time, his day, his age." These are the words of Frank Lloyd Wright, and I believe they are true.
Appreciating the world we've built, leads inevitably to appreciating the world that nature has built. When we stop to admire beauty in one form, we will appreciate it in all forms. These are wonderful lessons for adults and children alike.
My hope for The Shape of the World, is that this book will inspire children to take a look at the world around them much earlier than I did. I hope they'll be challenged by Wright's example to make the world that they create as beautiful as the natural world around them.
As Frank Lloyd Wright once said, "If you foolishly ignore beauty, you will soon find yourself without. But if you invest in beauty, it will remain with you all the days of your life."
We create the shape of the world. All of us, together.
It is our sacred task.
May we rise to the challenge, and may we equip our children to do the same.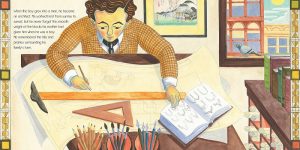 About the Book:
A little boy who loves to find shapes in nature grows up to be one of America's greatest architects in this inspiring biography of Frank Lloyd Wright. When Frank Lloyd Wright was a baby, his mother dreamed that he would become a great architect. She gave him blocks to play with and he learned that shapes are made up of many other shapes. As he grew up, he loved finding shapes in nature. Wright went on to study architecture and create buildings that were one with the natural world around them. He became known as one of the greatest American architects of all time.
Reviews:
A spot-on introduction to Wright and an evocative recognition of the way a child is father to the man."—Booklist, starred review
Simple prose set in a light type that reflects Wright's art serves as a jumping-off point for each of the expansive illustrations, giving young readers ample opportunity to discover hidden gems in the pages, such as the red squares that are scattered throughout Wright's work. A lovely introduction to the impact that a creative mind can have on the world."—Kirkus