Welcome to KL Going.com.
Who is KL Going?

I'm an award-winning author who creates literature for children of all ages. That's right – whether you're a kid who loves picture books, a middle grade reader, a teen looking for awesome YA, or an adult who's young-at-heart, I have a book for you. In addition to being a writer, I've also worked in the publishing industry as a freelance editor, assistant literary agent, and a bookstore manager. I lead workshops through the Highlights Foundation, and I've been a guest speaker for such esteemed venues as SCBWI, PEN, Vermont College's MFA Program, New York University, and the American Library Association, just to name a few.

Why mention these credentials? Because my most important role is that of a mentor. With every book I write, my desire is to touch someone's life in a way that empowers, inspires, and entertains. When it comes to aspiring authors, I want to use the knowledge I've gained in over a decade of publishing to help you reach your goals. Writing is about more than seeing your name in print. It's about understanding yourself and the world around you, and then revealing your unique truth to others. At its best, writing embodies passion and connection. That's what you'll find at KLGoing.com.

So, join me and explore!


My Newest Book!
The Next Great Jane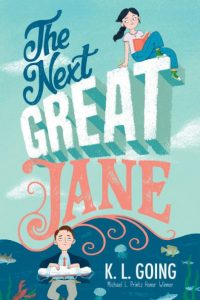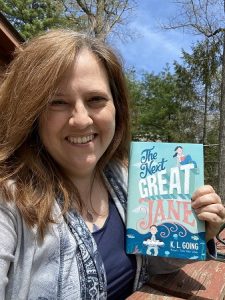 "Going has created another original and captivating story by weaving engaging characters in an ordinary setting who do incredible and impossible things. An inspirational must-have for every library."—School Library Journal, starred review
"…buoyant, with interesting plot developments, layered characters, humorous moments, and a healthy dose of marine science…"—Booklist, starred review