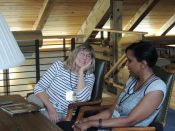 Are you writing a novel? Looking for guidance and nurturing?
March 16-19, 2017, I will be co-hosting a Highlights workshop with the lovely and talented Clara Gillow Clark. We only have a few spots left open, so if you're interested in registering, you can find out more through the

 

Highlights Foundation.
Hope you enjoy this interview! We'd love to have you join us!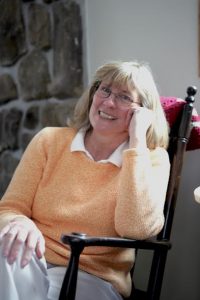 Q. What makes the start of writing a novel so challenging?
CGC: Before I begin to write a novel I go through a spell of what I call "dream time" when a character has caught my attention who has a story that wants to be told. Dream time is sweet, the sweetest part of the writing process for me. I always walk my stories, and that's when scenes come to life and characters tell me things. What a shivery sort of thrill it is when that happens. The opening pages start to take on shape as I jot down notes. But, still I wait. And I wait some more, waiting for the character to share her secrets with me. And still I wait. Images come. Maybe they'll turn into a symbol or a metaphor, but it isn't until I can see where my character will be at the end of the book, that I sit down to write.
Usually, some of the first chapter comes out smoothly and fully formed, but there are always hard places where the writing is a struggle. Likely, it's that unwieldy back story that begs to be included in the very beginning, because I really MUST put it there. Or I decide a prologue would be nice, which always seems a delightful way to begin and such a great way to slip in all the information readers MUST know. Kill the prologue. Give it up. Then I remind myself of Flannery O'Conner's words to writers: Don't worry about what to say; just make pictures and conversation. And that's what I try to do.
Q. What do you know now that you wish you'd known at the start of your career?
CGC: Everything changes. Everything. We write and over time we become confident and feel comfortable with our style and our writing voice; and at the beginning of our careers when we're first published, we think it will always be that way. We do all the right things–study craft, practice craft, and read other authors' works. One day we realize the industry is changing, and it's not just a trend. The reality is that both publishing and language is influx and will continue to be so in the future. But know this: It has always been true that we need to be original and unique in our vision for a story that has a thousand faces already. That's where I am now, reinventing myself and my writing, going deeper, but still always writing from the heart. Embrace change and don't be afraid. Keep reading and your vision will adjust.
Q. What is a common mistake you see when critiquing new writers?
CGC: Most new writers who are serious about the craft of writing have a pretty good grasp of story, because they're readers. But often when we read, we zoom in on the action and read on to find out what's going to happen next. We see the twists and turns, the pitfalls and setbacks, but seem to miss what's really driving the cart over that cliff, which is emotion. Often aspiring writers skip right over the interior development of their protagonist and often tell instead of show their character's emotion. Other things that are often problematic for new writers are deep point-of-view, verb tenses – especially if they're writing in the present tense, and transitions.
Q. What are you most looking forward to about our upcoming Highlights Foundation Workshop, Novel Beginnings?
CGC: Meeting new writers, mentoring, but also experiencing that warm feeling of a kind of homecoming. That's how I feel when I'm at the Foundation. I'm in a safe and nurturing environment with like-minded people who love to learn, love books, and want to be better writers. I'm looking forward to forging new friendships, but also seeing old friends who work there like Chef Amanda. What could be better than that?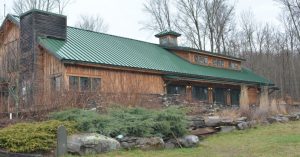 The Power of Video: How Novel Writers Can Utilize YouTube Marketing
In the world of publishing, getting your book out there and noticed can be a daunting task. With thousands of new releases each year, it can be difficult to stand out from the crowd. However, with the rise of digital marketing, novel writers now have a new tool at their disposal: YouTube.
YouTube is a video-sharing platform with over 2 billion monthly active users, making it the second largest search engine in the world. Utilizing this platform can help you reach a wider audience, engage with readers in a new way, and ultimately boost your book sales. Here are some tips on how novel writers can utilize YouTube marketing:
Create a book trailer: Just like a movie trailer, a book trailer is a short video that showcases your book's plot and characters. This is a great way to capture potential readers' attention and give them a taste of what your book is about.
Share your writing process: Many readers are curious about the writing process and enjoy behind-the-scenes glimpses into how their favorite books were created. Consider creating videos that show your writing process, from outlining to editing.
Host Q&A sessions: Interact with your readers by hosting live or pre-recorded Q&A sessions. This allows them to ask you questions about your book, characters, and writing process, and helps build a sense of community.
Collaborate with other YouTubers: Partnering with other YouTubers in the book community can help you reach a wider audience and introduce your book to new readers. Consider collaborating on book reviews, tag videos, or even co-writing a book.
Offer exclusive content: Reward your subscribers by offering exclusive content such as deleted scenes, character interviews, or even giveaways.
In conclusion, YouTube marketing is a powerful tool that can help novel writers reach a wider audience and ultimately boost book sales and Marketing Heaven is the best site to buy YouTube views. By creating engaging and informative content, interacting with readers, and collaborating with other YouTubers, you can create a loyal following and build your brand as an author.