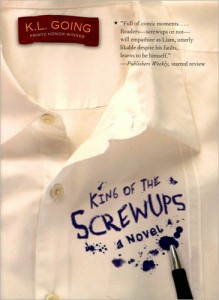 King of the Screwups
Houghton Mifflin Harcourt, 2009
Read the first three chapters (pdf)
Deleted scenes
Check out KL's King of the Screwups playlist:

1) A Better Son/Daughter – Rilo Kiley
2) Troublemaker – Weezer
3) So What – Pink
4) Screw Up – Overseer
5) Popular – Nada Surf
6) Personality Crisis – NY Dolls
7) Glamorous – Fergie
8) I'm too Sexy – Right Said Fred
9) American Boy – Estelle
10) No More Mr. Nice Guy – Alice Cooper
11) Vogue – Madonna
12) Life on Mars? – David Bowie
13) Tres, Tres, Chic – Mocean Worker
14) That I Would Be Good – Alanis Morisette
15) Second Chance – Shinedown

Buy the book
Awards and Honors:
Rip Van Winkle Award (School Library Media Specialists of Southeastern New York)
Kirkus Best Young Adult Booklist, 2009
Green Mountain Book Award Master List, 2010
Kentucky Bluegrass State Award nominee
George State Peach Book Award for Teen Readers nominee
American Library Association Rainbow Project
Branes & Noble Best Teen Booklist, 2009
Liam is too popular for his own good. When his antics finally push his father over the edge, Liam is sent to live with his cross dressing, glam band-leader uncle. Deciding now would be a good time to reboot his image, Liam tries everything in his power to be the nerdy, unpopular kid in his new school. However, as the title says, he even screws up screwing up!
Reviews:
"Liam Geller's good looks and fashionista genes come from his mother, a former model who introduced him to the glamour of the runway when he was just a toddler. Popular with his fast-lane friends, Liam's live-to-party attitude ires his cold, controlling father, so it isn't surprising when yet another a streak of bad behavior gets him kicked out of the house. Angering his father even further, Liam seeks refuge with "Aunt Pete," his cross-dressing, deejay uncle who lives in an upstate New York trailer park.
The setting is ready-made for the cast of quirky characters who make up Pete's glam-rock '70s band: Eddie, a boutique owner; Orlando, Pete's boyfriend (and Liam's new English teacher); and Dino, a local cop. The Gucci-clad teen awkwardly tries to adapt to his new surroundings, missing cues from Darleen, the arty girl next door, about what it means to be popular in Pineville.
Liam's misadventures unfold alongside incidental memories (in italics) that subtly reveal the relationships between father and son and mother and son as they developed over the years. Liam is a multifaceted and resilient character who ultimately learns how to be comfortable in his own skin with the help of his new, makeshift family.
Going's knack for defying stereotypes and creating memorable characters will not disappoint fans of Fat Kid Rules the World (Putnam, 2003) and Saint Iggy (Harcourt, 2006)."—School Library Journal, starred review.

"Liam Geller's mother is a retired supermodel, his father a high-powered CEO. Liam, 17, is a world-class ne'er-do-well. He breaks the camel's back when he's caught in flagrante delicto with a girl on his father's office desk and gets kicked out of the house.
Liam's softhearted mother arranges for him to move in with her husband's estranged brother, Pete, a cross-dressing deejay who lives "in a broken-down trailer park in the middle of nowhere," per Liam's father. To regain his father's approval, Liam tries to lose his "Mr. Popularity" rep and reinvent himself as studious and nerdy (he even joins the audio-visual club), but he can't hide his charm.
Darleen, a hostile classmate Liam tries to befriend, sees right through him. "You'll do what you do, which, if I'm guessing correctly, is to be wildly and naturally popular." Going's latest (after The Garden of Eve) is full of comic moments featuring "Aunt" Pete's glam-rock band buddies and Liam's relentless blunders, as well as his uncommon fashion expertise ("You're like a fashion Einstein," gushes one of Pete's friends). Readers—screwups or not—will empathize as Liam, utterly likable despite his faults, learns to be himself."—Publishers Weekly, starred review.

"Popular, beautiful slacker Liam spends the majority of his time partying and chasing girls instead of focusing on his studies. To keep him in check, his dad kicks him out of the house and ships him off to live with his gay glam-rocking uncle. Bad hair, tights, bitchy neighbors, reality checks and fashion shows ensue. Going's latest flows easily with smooth, realistic dialogue and reads like a coming-out story for straight guys. This innovative, out-of-the-box approach juxtaposes stereotypes, received values, parental roles and masculinity in a jarringly fun and approachable manner that marks a triumphant left-turn for the genre. Cloaked as a story of tough love, this is actually a psychological exploration of the impact of parental expectations versus the dreams of their children. Nothing earned comes easy, however, and Liam finds that he does need to switch some of the gears inside his head, but he's not as big of a screw-up as his parents make him out to be. Moreover, trouble does follow him wherever he goes, but avoiding it is easier when you've got the right kind of support."—Kirkus Reviews.