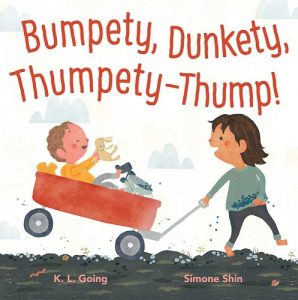 Bumpety, Dunkety, Thumpety-Thump!
Illustrated by Simone Shin
Beach Lane Books/Simon & Schster, September 2017



Buy the Kindle edition
Buy the NOOK Book
Wagon on gravel goes bumpety-bump.
Pebbles in the pond fall plunkey-plunk.
Toes in the grass dance thumpety-thump.
Bumpety-plunkety-thumpety-thump!
Join two sweet siblings as they explore their backyard, get deliciously creative in the kitchen, and then spend a cozy evening preparing for bed. Along the way they'll get muddy and messy and hungry and sleepy—just as all little ones do.
Reviews
Chosen for the 2017 Bulletin Blue Ribbons, a list of the best in children's literature chosen by the staff of The Bulletin of the Center for Children's Books.
"A day of blueberry picking and all it entails is experienced in a jaunty, rollicking romp.Siblings set out barefoot through the muddy grass with their wagon, fill their bucket and mouths with the fruit, and return home with their bounty. "Berries on tongues taste bumpety-bump. / Plop them in the bucket, they go plunkety-plunk. // Bucket in the wagon rattles clunkety-clunk. // Bumpety, plunkety, clunkety-clunk." Pie baking is next as the sibs feel the plumpness of the berries through their fingers, enjoy a piece of the freshly baked dessert, help to clean up dishes, take a bath, happily say goodnight, snuggle in for a story, and fall asleep after a very satisfying day. Each scene, rendered in muted colors with printlike textures, depicts this possibly mixed-race family (one child has light-brown skin, the other has pink; mom and dad are both light-skinned) working together as the story unfolds in its sonorous, animated phrasing. Little ones will bounce along to each new frolicsome declaration right up to the somniferous end. "Snuggle in the blankie in a lumpety-lump. // Hearts beat close with a thumpety-thump. // Bumpety, lumpety, thumpety- thump." This winning read-aloud should encourage multiple recitations."—Kirkus
"Two grinning children take a wagon out with a bumpety-bump, toss pebbles in a pond with a dunkety-dunk, and gather berries in a bucket with a plunkety-plunk. Inside, the berries are transformed into pies and the children go dunkety-dunk into the bath before they get in bed for stories (snuggled up in a lumpety-lump). Shin's illustrations, simple shapes with a block-print feel, evoke the sights, sounds, tastes, and textures of the text's onomatopoetic rhyme in textured earth tones accented with pops of primary color in the kids' red wagon and yellow rain boots. The simply drawn characters are expressive in their whole bodies, grinning as they cart berries inside and splash exuberantly in the sink and tub. The ending quiets down as the bumpety, plunkety, glunkety-glunks of play and bathtime give way to the thumpety-thump of heartbeats as the family cuddles up together for storytime. This cozy story is sure to become a bedtime staple, priming little listeners (and adult readers-aloud,) for sweet dreams of summer adventures."—Bulletin for the Center of Children's Books, starred review
"Clunkety-clunk! Bumpety bump! This onomatopoeic treasure begs to be read aloud. Short, intuitive rhymes move readers along as two young siblings (big sister and little brother) have a simply wonderful day. Riding in a wagon, picking blueberries, helping Mom make a pie, dinner, dishes, a bath, and then snuggling down for good-night stories–what could be better? Page-filling mixed-media illustrations align perfectly with the spare text, creating warm, loving backgrounds. The happy expressions on the characters' faces are equally comforting, including some close-ups that even kids in the back row will be able to see. While the title refrain ("bumpety, dunkety, thumpety, thump!") is repeated throughout the book, there are additional lovely surprises along the way: "Bottoms in chairs slide slumpety-slump"; "Snuggle in the blankie in a lumpety-lump." An obvious choice for storytimes or units on rhymes, this will also be great for introducing beginning writers to the wonders of words—especially those that don't appear on standard vocabulary lists."—Booklist
"A young girl and her little brother take their bright red wagon and search for blueberries, which end up in a pie for the family to savor. From berry picking to bedtime, the account of a busy, fun day is full of amusing "thumps," "clunks," "lumps," and "glunks." Each line in the stanzas varies between nine and 12 syllables, but children won't mind the slight unevenness, as the chorus is consistent in length and a somewhat tongue-twisting joy to read. Youngsters will focus on the energetic thumpety thump–type repetition that ends each activity and creates an entertaining experience. Large, colorful digital illustrations are filled with energy and movement and have plenty of white space to show off the loving coziness of this family of four. VERDICT This onomatopoeic book is a lively read-aloud that will be requested often for storytime or bedtime."—School Library Journal