Bio & FAQ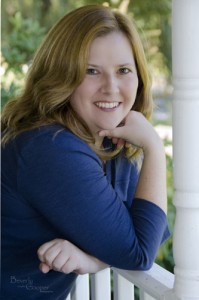 K.L. Going is the award-winning author of numerous books for children and teens. Her first novel, Fat Kid Rules the World, was named a Michael Printz Honor Book by the American Library Association, and was included on YALSA's Best Books for Young Adults list and their list of Best Books for the Past Decade. Her books have been Booksense picks, Scholastic Book Club choices, Junior Library Guild selections, NY Public Library Best Books for the Teenage, and winners of state book awards. They've been featured by Publishers Weekly, School Library Journal, Kirkus, and the Children's Book Council as Best Books of the Year. Her work has also been published in Korea, China, Italy, Japan, Germany, and the UK. Fat Kid Rules the World has been adapted into an independent film, directed by Matthew Lillard! The film has gotten over thirty rave reviews and was an Audience Award winner at the SXSW Film Festival. Now Fat Kid Rules the World is being developed as a Broadway show. KL's novel King of the Screwups has also been optioned for television!
K.L. began her career working at one of the oldest literary agencies in New York City. She used this inner knowledge of publishing to write Writing and Selling the Young Adult Novel — a how-to book for aspiring writers, published by Writer's Digest. She has also written short stories for several anthologies and currently has multiple picture books under contract. She lives in Glen Spey, NY where she both writes and runs a business critiquing manuscripts. She's also a mom to the world's cutest little boy.


Frequently Asked Questions
Q: Where and when were you born?
A: Rhinebeck, NY on August 21, 1973.
Q: Where did you grow up? Did you have a happy childhood?
A: I grew up in the Hudson Valley area of New York state, specifically, Borden Road, Wallkill, NY, and I had a wonderful childhood full of great books and outdoor adventures.
Q: Tell us about your family.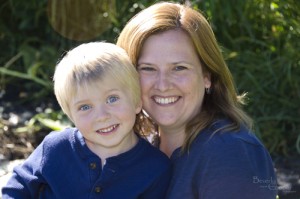 I'm married and I have a young son and a step-daughter. My parents' names are William and Linda Going. My dad is an environmental engineer and my mother is a librarian.
Q: Where did you go to school?
A: I went to Wallkill High School in NY, and Eastern College in PA. I was a sociology major and a Biblical studies minor.
Q: What other jobs have you had before writing full time?
A: Since graduating college I've worked as an adult literacy tutor, a ticket agent for an airline, a front desk clerk at a resort hotel, an assistant to two agents at a Manhattan Literary agency, and a manager of an independent bookstore.
Q: Where are some places you've lived?
Let's see. Maine, Oregon, Pennsylvania, Louisiana, Hudson Valley, NY and New York City (Brooklyn, not Manhattan).
Q: What childhood experiences/memories have been the subjects of your writing?
A: Mostly I write about feelings. I draw extensively on how I remember feeling throughout school. I've always been small and thin, (4'11 and 3/4″ !) but I've spent a vast amount of my life feeling like the "fat kid" – namely, self-conscious. I try to tap into the extreme ends of the emotional spectrum. I'm not as interested in the stable feelings in the middle. I take the best and worst feelings and try to make those emotions come alive through my characters.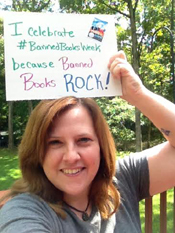 Q: Have any of your books been banned?
A: Yes. Fat Kid Rules the World has been challenged in several states. In one school district in Virginia, all the kids wore We Support Fat Kid Rules the World bracelets.
To my knowledge, the book has only been truly banned once – in South Carolina. The following year, that same library banned their entire summer reading program. There may have been other instances where the book has been banned, but I don't always hear about them. Occasionally I'll be asked to speak to local media if the debate gets heated.
For more information about banned books, check out bannedbooksweek.org.
Q: Where do you write?
A: At the library, at home, anywhere I can!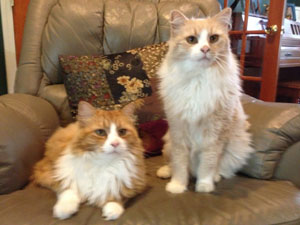 Q: Do you own any pets? If so, what types? Their names?
A: I have two cats – Merry and Pippin. They are real troublemakers. :-}
Q: What are your favorite pastimes/activities when you are not writing?
A: What? You mean there are activities aside from writing?? Ok* let's think. Listening to music. Traveling. Taking care of my little boy. I do love to read, although I don't get to do it as often as I'd like.
Q: What's your favorite color?
A: Red. Like ketchup.
Q: What kind of music do you listen to?
A: My musical preferences are strongly influenced by my mood, so I like a lot of different things. Favorite band is Nirvana (okay, how hard was that to figure out?). I love Iggy Pop, Oasis, a Northampton group called the Nields, Alanis Morisette, Pete Yorn, Van Morrison. These days I listen to a lot of Putamayo children's CDs.
Q: How did you start writing? Did you always want to be an author?
A: As a kid, I was always writing stories for fun, but I didn't plan on being an author. I was planning on joining the Peace Corps. Writing was something I did for pleasure. I wrote my first complete book in high school. It was a fantasy novel. After that, I was always working on something. It wasn't until much later when I got a job in publishing that I first considered submitting my work for publication.
Q: Have any other authors influenced your writing?
A: Definitely. Lloyd Alexander was a huge influence, and I had the privilege of meeting him at his home before he passed away. What a wonderful man! I also love Susan Cooper's books, and I'm a huge fan of both J.D. Salinger and Jack Kerouac.
Q: Are you planning any sequels to your books?
A: No, sorry! I get asked this all the time, but unfortunately I don't have any sequels in the works. I prefer to let readers decide for themselves what happens once the book is over.
Q: Are you working on anything new?
A: I currently have a new novel in production that will be released May 2020 and I have three picture books that are being illustrated.

KL Going video
This video was made by Mount Saint Mary graduate student Rob Petrarca as his senior thesis project. It was filmed at KL Going's home in early 2014.