I'm sure most of you already know that we not only met our Kickstarter goal, we exceeded it! Amazing! Our final total was $158,000 raised to support the release of the film. I could not be more excited, humbled, and grateful. Thank you, thank you, thank you to all who contributed.
Now everyone is asking, "What comes next?"
First, we've already launched the movie on the Vans Warped Tour.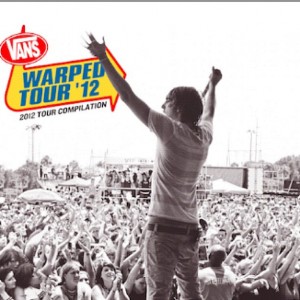 This is a punk rock tour that travels through 42 cities in the US over the course of the summer. We've got a promotional team who will go to every city and set up a tent at each event, giving away lots of free FAT KID swag, talking up the film, and encouraging people to TUGG the Fat Kid to their local theater (more on that in a moment). In addition, Matthew Lillard will be making personal appearances at nearly twenty of these events. There will be backstage screenings of the film and hopefully lots of fun and mayhem.
The second part of our plan is to actually get the film into a theater near you. How do we do this without a traditional distribution deal? Here's how: we've teemed up with www.Tugg.com so that YOU can bring the movie to almost any theater in the country.
Step One: Go to www.tuggthefatkid.com
Step Two: Either select a screening that's already happening OR sign up to become a promoter.
Step Three: If you sign up to be a promoter, Tugg will contact you via e-mail within twenty-four hours. You select the theater you want, the date, and time of the screening, and they will negotiate with the theater for you and help you to set up and promote your event. YOU WILL NOT HAVE TO BOOK THE THEATER OR DO ANY OF THE NEGOTIATING.
Step Four: Once your event is listed, you must sell a minimum number of tickets in order for the screening to happen. Tickets are sold on-line at the www.tuggthefatkid.com site. If enough people buy tickets, the screening will go on as planned and you will get a percentage of the profits. If there aren't enough takers, the event is cancelled and no one gets charged anything.
There are currently screenings set up in: Salt Lake City, UT; Denver, CO; Las Vegas, NV; Allentown, PA;  Tustin, CA; Houston, TX;  Edina, MN; and Plano, TX!!
Wow! If you live near any of these cities, go see the movie. Buy your tickets today!
And finally, check out our cool Fat Kid trailer making its way around the country with the Vans Warped Tour: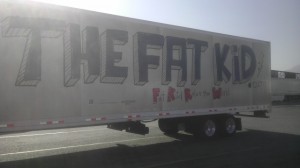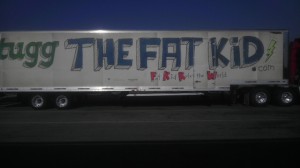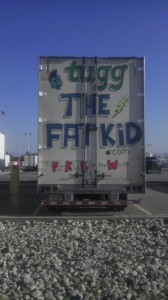 How's that for homemade, grassroots promotion?
Let's rock this, people! Buy your tickets, book your screenings, and spread the word!
Peace, love, and gratitude,
KL