Before I share my pics from the NYC Rooftop screening of Fat Kid Rules the World, I need to say this: we have just 3 days left on Kickstarter and we are only 95% funded. We need to raise 8K more or we get NOTHING! This is the final countdown, so if you haven't donated yet, this is your last chance! So far, we have over 2,000 supporters, which is overwhelming and wonderful. Join the movement!
The importance of bringing this film to audiences was brought home to me yet again this past Friday night (June 8th) at the Rooftop Films NYC premiere.  On a personal level, this screening was extra special because it was a chance to share the movie with many of my east coast friends who weren't able to be at the SXSW world premiere in Austin, Texas. What I didn't expect was a crowd of over 600 people whose enthusiasm for the movie was incredible to witness.
Of course, being the twisted brain behind the fat kid, I worried whether anyone would show up. (Yes, I worry about everything.) In retrospect, I didn't need to fret about that! Here's the line before the doors opened: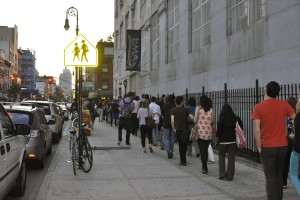 The rooftop venue couldn't have been more perfect. The event was held at the New Design High School, an artsy school with incredible murals and a breathtaking view. Here I am arriving to the event with my Fat Kid Rules the World hand bag, made by Katie Sawyer – thanks, Katie! (Photo by Gae Polisner, author of The Pull of Gravity)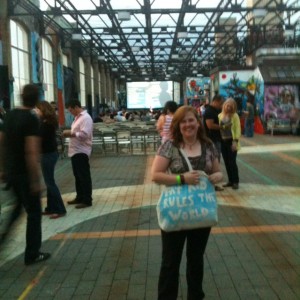 Here's the view from the top, taken with my iphone: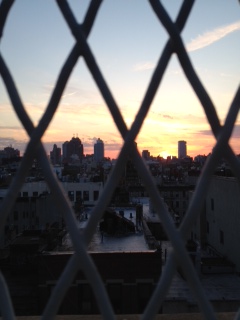 And here are some great shots of the artwork: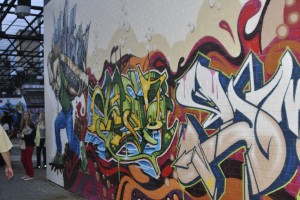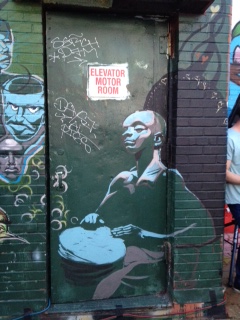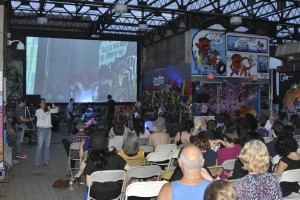 There was live punk rock music before hand (courtesy of the band Eula).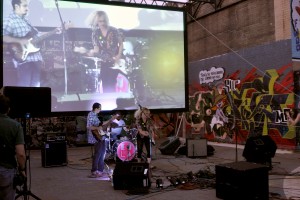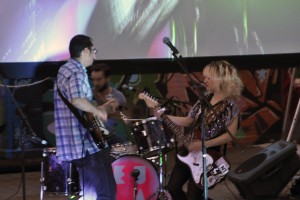 And then Fat Kid Rules the World was being shown on the big screen.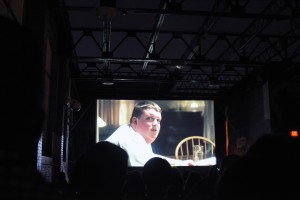 It is so incredible to watch the audience as they watch the movie. Seeing people laugh, cry, and gasp at all the right moments is really rewarding. I can only imagine how that must feel to Matthew Lillard and the rest of the cast/crew. Guess I should have asked them during the Q&A after the movie. Here are some pics of everyone (including me!) up front answering questions from the crowd.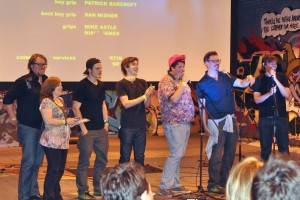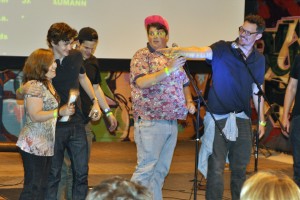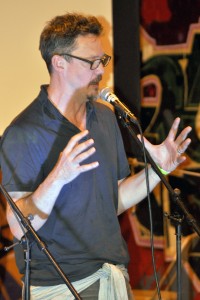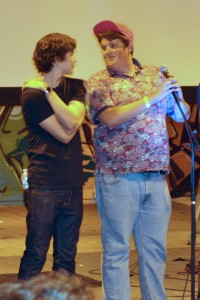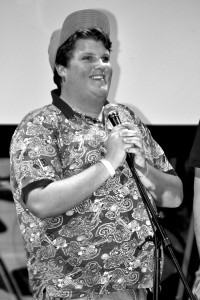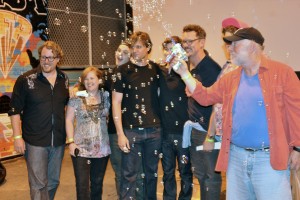 And here's one taken from my iphone of the crowd looking at us!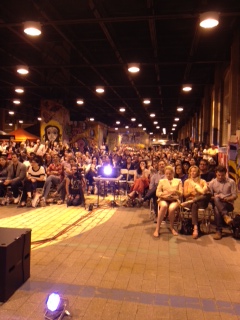 During the Q&A, a young woman from India stood up and spoke about how she'd found the book and shared it with all of her friends until her copy was tattered and worn, and how she'd sworn that if they ever made a movie of this book she would go see it. She said she's so used to movie adaptations that don't do the book justice, and her comment was that this movie was an exception. That was one of those moments where I got goosebumps.
After the Q&A, there were pictures to be taken and people to greet. At long last, my editor, Kathy Dawson, got to meet Matthew Lillard. I'd told him ahead of time that she'd be there and he said to be sure they got introduced so he could heap praise upon her!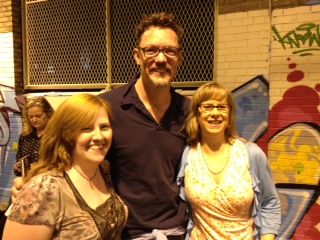 Kathy and I also got hugs from Jacob Wysocki (Troy)…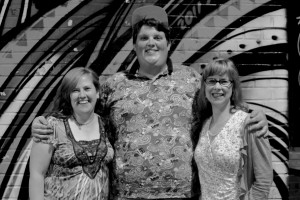 And Dylan Arnold (Dayle).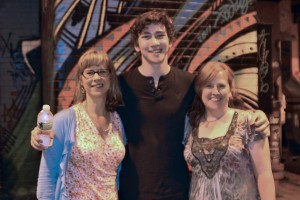 Everything seemed to go by in a blur, and I kept wanting time to slow down time so I could savor every moment. But before I knew it, everyone was off to the after party at R Bar in the Bowery. Here's a fun photo I stole from the Facebook page of Julian Gavilanes who plays one of Marcus MacCrae's band members in the movie. Julian is an up-and-coming star so watch for him in theaters near you!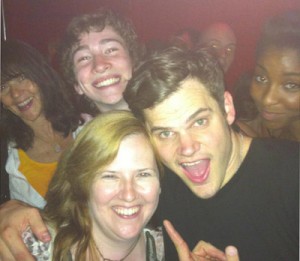 Check out the T-shirt on this awesome fan!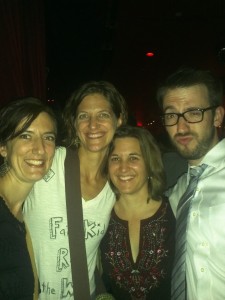 Okay, I confess. I know her. But it's still pretty punk rock. Here's someone else spreading the Fat: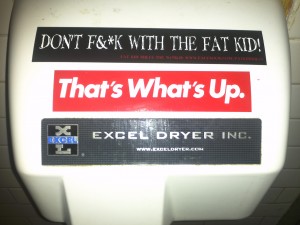 Yes, it seems wrong to end with a photo of a hand dryer from the bathroom of a club, but in a way, I suppose it's kind of fitting. The whole evening was totally punk rock in the best possible way. Amazing people coming together in NYC where the book was conceived and written and the story was set… a screening of a YA film on top of an incredible high school… all of us misfits, music lovers, art supporters, actors, rockers, readers, and fat kids, gathered to celebrate a movie made just for us.
Perfect.
***************************************************************
All of the photos, unless noted otherwise, were taken by Beverly Cooper.