As an author, I'm often asked to write blurbs for up and coming books. Quite often. Of course, it's a huge honor that an author or their editor would value your work enough to ask you to provide a blurb for them. It's especially touching when it's someone's debut novel and they write you a gushing request letter. But this is also challenging because if I said yes to every request, my name would be on way too many books. Readers would get sick of seeing my blurbs. They'd think, "Her again? Well, this doesn't mean anything because she blurbs everything!" So, somewhere along the line I decided to limit myself to one blurb per year. I definitely want to support other writers, but I also want my blurb to mean something special. I want my quote to indicate that I connected really strongly with this work.
That's why it means a lot to me to introduce Gae Polisner and to say I'm proud to have written a blurb for her debut YA novel, The Pull of Gravity. Not only do I have a special connection with Gae personally (as you will soon discover) but as soon as I read The Pull of Gravity I knew it was my kind of book. There's teenage angst, but there's also plot. There are quirky characters, but they feel completely real. There's Star Wars and Steinbeck, and… well, it's a really great story so you should buy it and read it for yourself. You won't regret it. :-}
I'm so pleased to be able to play a small role in introducing both this book and its talented writer to the world. So without further ado, meet Gae Polisner!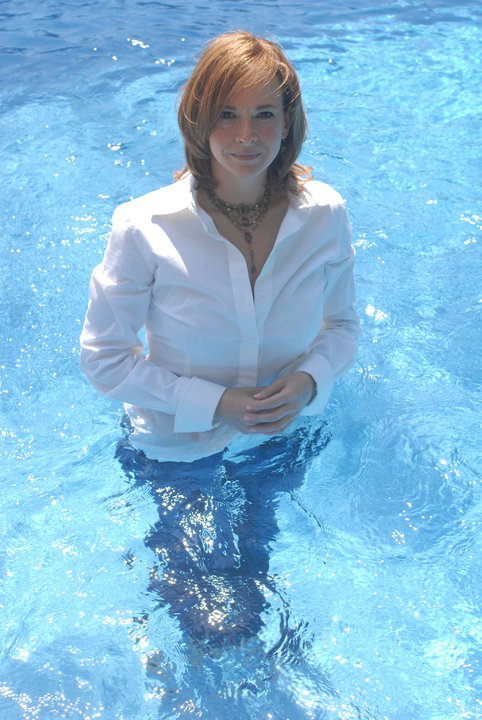 1) So Gae, tell us a little bit about The Pull of Gravity.
Can I first tell your readers how we "met?" That before I ever wrote YA fiction, I read it nightly aloud to my two kids. And we went crazy for The Liberation of Gabriel King and so I posted a review on Amazon and gushed to you about it? That was a lot of years ago, and now here I am answering questions for your blog about my writing, and yet I'm still a little star struck over you. I think you're utterly amazing, and, what was the question again?
(You are too kind! And this is one of my favorite stories. I wrote a blog a couple weeks ago called Paying it Forward On-line, and this is the perfect story to illustrate my point. Out of all the people who have read Liberation, you were one of the few who took the time to write an Amazon review and the review was so warm and wonderful, and it touched me so much I e-mailed you to say thank you, and we've kept in touch ever since!)
Oh yeah, The Pull of Gravity is about two teens, Nick and Jaycee, who, armed only with the wisdom of Yoda and a rare, first-edition copy of Steinbeck's Of Mice and Men set out on a whirlwind, secret journey to keep a promise to their dying friend. It's a character-driven story about first love, friendship and the true nature of family.
2) What did you learn while writing this book?
I learned that I can actually plot. That I can tell a story that builds upon itself, has unexpected twists and turns, that surprises people, and makes (most of them) want to keep reading.
3) Did you like the cover and overall book design?
I do. My cover is a long shaggy story. If you asked me what I originally wanted, I would have told you something iconic, NOT with a portrayal of the characters, because I tend not to like covers that show you as a reader what the characters should look like.
(I totally agree!)
Then, they gave me an iconic cover on my ARC, and I wept. Truly wept. But not in a good way. It was just so bland and unmemorable and felt like it said nothing about my book. I begged for another and they gave me something I LOVED (now I wept in the good way) and then they decided it wasn't right and took it away again. Then this third cover came. It had a portrayal of the characters on it. But I still loved it anyway. Loved it enough. If the "Nick" character on it isn't exactly right (to me), the Jaycee character is. And more importantly, it just sets the right mood. It feels angsty and poignant and "of a moment" that is about to waffle and change. And it looks like a movie poster. So, yeah.
4) What has your post publication journey been like?
Harder than I thought, but also hugely exciting and rewarding. As anyone in the business knows, the book world is going through drastic changes. It's a hard time for bookstores and publishers and agents right now, and, unless you're one of their big titles, the publishers aren't doing much for us anymore as far as marketing goes. So I've spent a ton of time trying to get the word of my little book out there. More time and effort and money of my own than I could have imagined. And, I'm still working to secure my next deal.
But there have been some amazing moments. Doing readings with other authors I've respected and admired is nothing short of surreal. I mean, I sat on a panel moderated by David Levithan (!!!) a few weeks ago, and read with some established and up-and-coming authors whose writing just blows me away. And getting notes from teens or bloggers or librarians who have read the book and connected with it is a pure, unadulterated thrill, especially teenage boys who say they normally don't like to read. Yep, that stuff is really, really good. Oh, and a high school in Michigan has actually adopted my book into the curriculum to teach along with Of Mice and Men this fall. I'll be taught with Steinbeck. I mean, come on! That is a really cool thing.
5) Tell us about a few of your favorite things — aside from writing.
Well, of course there are my kids. I have two great boys, and my younger one is a sports nut, so I spend a ton of time watching him play basketball or baseball, both on travel teams. When I'm not doing that, or writing or working my paid job (as a divorce mediator), I'm swimming. From May – October, I swim with an open water group, pretty much daily, in the Long Island Sound. It's utter bliss for me. In the off season, I'm relegated to a pool. But, that's okay. I need the water. I thrive in it. It's where my stories come.
6) What are you working on now?
I'm working on revisions for what will hopefully be my next book, tentatively titled Frankie Sky. I just signed with a new agent, and he's excited about it, and I'm excited about him, so we'll see what happens there. I also have a few other manuscripts – some YA, some women's fiction – that I'd really like to get back to.
7) What kind of writing advice do you offer those aspiring to be published?
If you want it, don't quit trying. And don't stop absorbing constructive criticism to use to hone your craft. Put yourself out there over and over again. And don't forget that writing is subjective, so there's some luck (or alchemy) involved. You need to get your writing to the right reader (agent or editor), the one that connects with your voice and your story. The more you put yourself out there, the more the luck has a chance to find you.
8) How can people find out more about you and your books?
They can go to my website www.gaepolisner.com or www.thepullofgravity.com. There are links to my blogs there (I maintain both a YA blog, That Wee Bit Heap, and a general (not always YA-appropriate) blog, Trying to Stay Afloat in a Sea of Words, which you can get to through my women's fiction page. There's also a link to a kickass Teachers Guide for The Pull of Gravity there (linked via my YA page). Or they can follow me at twitter under gaepol or "like" my facebook author page, here: https://www.facebook.com/gaepolisnerauthor.